Broken Spring Repair.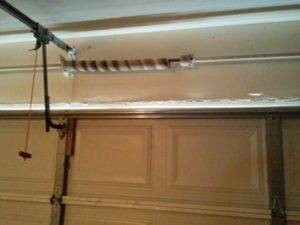 One of the most common issues our team of expert technicians at Chameleon Overhead Door sees is broken spring repair. Garage door springs are robust, strong springs designed to handle years of opening and closing doors. The industry standard for new doors is between 10,000 and 15,000 cycles. A cycle is a single opening and closing of a door, so with normal use, a garage spring will last approximately seven to 10 years.
However, even these sturdy parts can get damaged. General wear and tear, improper calibration, a lack of upkeep and even extreme temperature fluctuations can cause a spring to break. You'll know it breaks because it makes a very loud metallic sound. Plus, your garage door will immediately become impossible to move.
And when that happens, you've got a problem. You can't get your car in or out of the garage—and if the door is even open just a little bit, it's leaving your home vulnerable to unwanted intruders.
Expert Broken Spring Repair From Chameleon Overhead Garage Door
A broken spring is not something you can easily replace yourself. First, in order to purchase a replacement spring, you need to know what torsion spring lift you need, as well as the track radius. What's more, your door might have only one spring, or it could have two, depending on the design. And then you still need to remove the old spring before installing and calibrating the new one.
That's where the specialized technicians at Chameleon Garage Door come in. We can assess what kind torsion, length and radius spring you need. If we don't have it in stock, we'll order it for you. Rest assured: we only work with the highest quality products, so you can be sure you'll get years of use out of your new spring. Finally, we can quickly remove the old spring and efficiently install and calibrate the replacement—which means your garage door will be as good as new again!
Call Chameleon Garage Door for a Free Quote
If your garage door has a broken spring, then call us right away at 512-203-9866. We'll provide you with a free estimate and the best spring repair service in the Austin area!