Gate Opener Installation.
Your gate opener is the main part of your gate. If it's not calibrated properly, if it's worn, or if it's simply broken, your gate might not work at all anymore. You could find yourself locked in or out; or the gate could stall halfway, leaving the way open for uninvited visitors to enter your property and pets or livestock to wander out. This is not only inconvenient; it's potentially dangerous.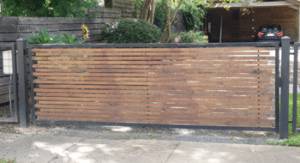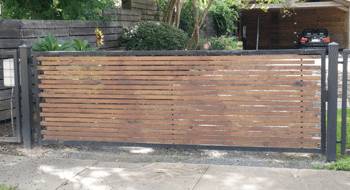 It's crucial to understand that gate openers need to be sturdy in order to deal with all the traffic that enters and leaves your property. That means that the mechanism has to be strong; but the technology steering it also has to be robust. For example, if you want a remote controlled opener or a touch pad opener, you need to be sure that they'll continue to function, even in extreme weather conditions. At the same time, you need them to be sophisticated enough to discourage burglars and other criminals.
Choose Chameleon Garage Door for Gate Opener Installation
When you contact Chameleon Garage Door to install your gate opener, you can rest assured you're getting the very best technicians in the greater Austin area. All of our people are properly trained, highly experienced and thoroughly screened, so you're sure our service is professional, prompt and trustworthy.
Our technicians can advise you on the best kind of gate opener for your situation. For example, you might want keypad entry to make it easier for your children and family to enter your property, while you and your partner still want remote controls. Or maybe you want to add a solar charged panel to keep your energy bills low and minimize your carbon footprint. In all of these cases, our technicians can advise you on your best options and price out the most cost-effective solutions. Are you in need of Gate Opener Repair? We also do that too!
Find out why homeowners and business owners in the greater Austin area rely on Chameleon Overhead Doors to install their gate openers: call us to request a free quote today!