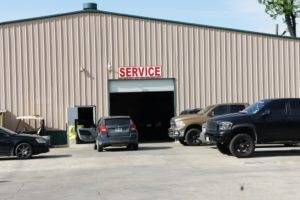 In 2011, there were almost 600,000 burglaries of commercial properties in the U.S. And that number is likely to be higher by now. So it's not surprising that if you're a forward-thinking, responsible business owner, you probably want to physically protect your property as best as you can.
Let's face it: large storefront windows and regular garage doors aren't enough to keep criminals away anymore. And even if you're insured, being targeted by burglars is an intimidating experience. First of all, it's shocking to you and your employees, and can create feelings of insecurity. Second, even if the damage is covered by your insurance, you'll still have to manage the inconvenience and loss of business of having the police and insurance company investigate the incident before you can repair things and reopen business. Lastly, a burglary can have an impact on your commercial insurance rates, possibly driving your premiums up considerably.
Advantages of Safety Door Installation
Fortunately, installing a safety door can significantly reduce the likelihood of burglars managing to enter your property. A safety door is a steel door with reinforced bolts that completely secures the entrance to your property. You can select options such as touch pad control, remote control, vision panels and motion sensors to add an extra level of convenience and security.
In addition to the added layer of security, you'll most likely receive some discount or bonus from your commercial property insurance when you install a safety door, since it shows incentive to maximize your protection and care of your property.
Call Us for Safety Door Installation
For top-rated safety door installation in the greater Austin area, contact the team of specialized technicians at Chameleon Overhead Doors. We can assess the vulnerabilities and possibilities of your commercial property and subsequently provide you with a quote that reflects the most effective solution for your budget. When you decide to move forward with the installation, we'll perform the work quickly and efficiently so as to cause the minimum amount of disruption to your business. Need a new Door Installed? We also do that! Don't wait. call Chameleon Overhead Door today!